Nepals Première DMC for Meetings, Incentives & Events 
Partnering with Designer Incentives & Conferences is a privilege for us at Mundus. As one of the foremost destination management companies specialising in India, Sri Lanka, Bhutan and Nepal, the company's MICE experience offers unrivalled and unforgettable trips to a magical part of the world.
Priding themselves on their personalised service, company partners Sarvin Warden (SITE), Dimple Uberoi and Samir Uberoi oversee every aspect of your MICE conference; from trip developmental to the completion of the programme, making themselves available to escort you at any stage during your visit.
Understanding the operational needs of any MICE client is critical, which is why DIC's flexibility and resourcefulness means any last minute revisions and changes in you MICE programme will be accommodated.
Designer Incentives & Conferences are adept at handling incentives and conferences ranging from 10-800 guests. The team are experts at smoothly handling large scale flight arrivals and departures around their destination countries, securing large blocks of hotel space at advantageous rates, as well as managing internal air seats and charters to boot.
MICE groups can also rest assure that corporate social responsibility, carbon footprint mitigation, and full risk assessments offering substantial public liability cover come as part of the tailormade package.
I've been using Designer Incentives for the last 5-6 years and have run events with them in India, Nepal and Sri Lanka. They are very prompt and creative with their responses and are always flexible with programme elements, constantly finding ways to make an incentive more memorable for guests. Their operational work is always exceptional during the events as well with every detail planned and carried out flawlessly. Their knowledge, enthusiasm and professionalism is first class and to top it off, they are a lovely group of people that I consider not only a DMC partner but also friends.
Elliott Grant
President SITE UK Chapter
"If you measure your DMC by the company they keep, Designer Incentives and Conferences are up there with the best."
Martin Lewis Managing Editor
M&IT
I have long held the philosophy that we are only ever as good as our partners allow us to be. And you most certainly fulfilled your part. The experience was outstanding. From the moment we arrived until the time of our departure you and your team delivered customer delight.
BI Worldwide UK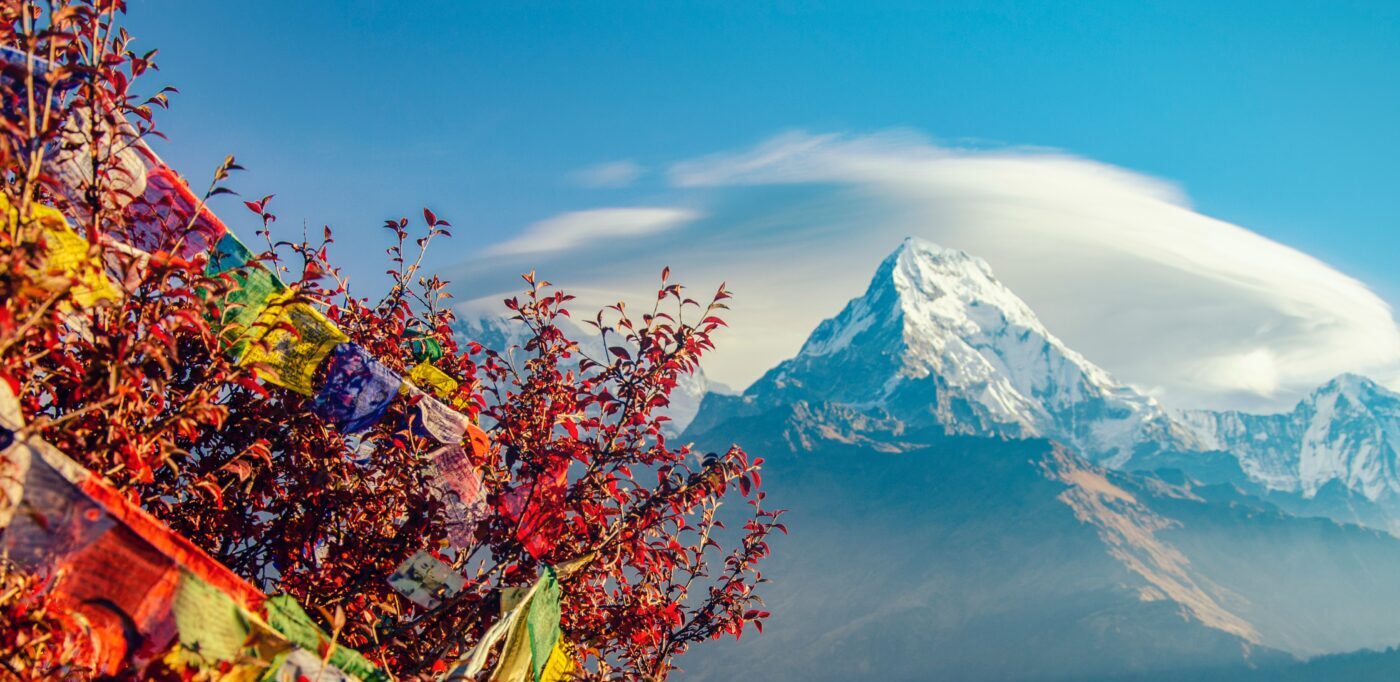 Time difference / travel time
Nepal is 4 hours 45 minutes ahead during the UK's summer time and 5 hours 45 minutes ahead during the UK's winter time.
There are no direct flights from the UK to Kathmandu, however there are excellent flight connections via the Middle Eastern, India and Asia carriers. 
Flying time from the UK is just over 11.5 hours.
NEPAL
Draped along the sky-scraping peaks of the Himalayas, Nepal is a land of yaks, stupas and Sherpas and some of the best trekking on Earth. Sandwiched between Tibet and India, Nepal is a Mecca for those seeking pristine mountain vistas, culture experienced amongst the pilgrim-filled old stupas and monasteries that dot the country, and the medieval Durbar squares of the old capitals of the Kathmandu Valley.
Nepal offers exceptional experiences for MICE, from the spectacular mountain flights to the Everest Valley, followed by a private helicopter trips bringing your client to within touching distance of the snow-capped peaks, to Royal Enfield motorcycles tours through the streets of Kathmandu and the surrounding villages. Or an audience with a living Hindu Goddess learning first-hand about their traditions, and hosting your gala evening in a UNESCO World Heritage site.
MICE Motivations
Excellent international flight access into Kathmandu with multiple airlines including Etihad, Emirates, Qatar, Oman Air, Cathay, Thai & Air Malaysia.
Diverse hotel offering for MICE programs to include the authentic Dwarika's Group and international hotel chains such as the Hyatt Regency, Marriott's, Radisson & Shangri-La's, or private tented camps overlooking the Himalayas.
Given Nepal's diverse geography, there's a plethora of unique and memorable places to host your client events.
OUR Corporate Social Responsibility
Note from Sarvin Warden:
"Corporate Social Responsibility starts at home! Being a service provider, we are not a large consumer of power, nor do we generate large quantities of waste. CSR starts at home….. we encourage our office colleagues to switch off computers, use natural light, use minimal amounts of plastic and print only what is necessary. We ask our partners and suppliers to provide their environmental policy and share this information with our clients. Additionally our risk assessment consists of an objective evaluation of risk in which assumptions and uncertainties are clearly considered and presented. At Designer Incentives & Conferences this is an integral part of our operations."